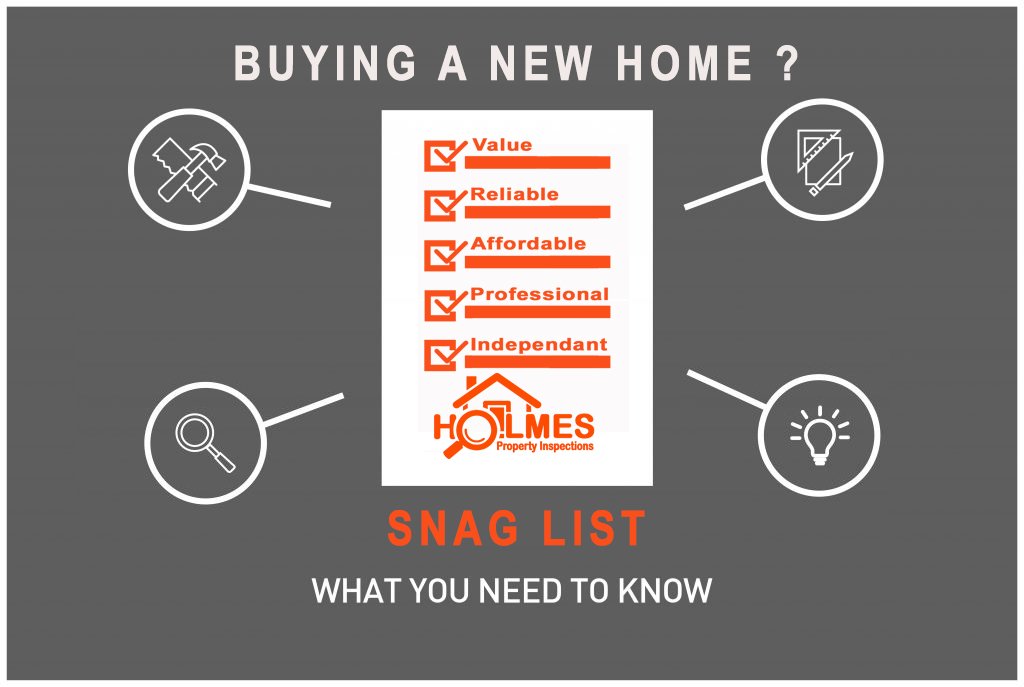 About US
Holmes Property Inspections are Leinster's Premier New Home Snag List Property Inspection Pre-Purchase Survey Service.
A "Snag list" and the term "Snagging" are the common expressions used within the building industry in Ireland to describe the detailed process of defect identification, rectification and resolution. On completion and submission of the snag list, the required works are attended to by the builder/ developer prior to closing of the sale.
At Holmes Property Inspections we offer our clients Leinster's Premier Independent, Comprehensive and Cost Effective new home snag lists and new build inspection survey's, each individually tailored to your property with a full written report including photos explaining all defects found.
During the inspection Holmes Property Inspection will go through a our unique detailed checklist comprising of more than 400 item check points, identifying, documenting and photographing any defects in materials or workmanship encountered, all of which will be included in our report.
This great value service provides total peace of mind for all new home owners or potential property investors with a very efficient turn-around time across the North East of Leinster, Dublin, Louth, Meath & Kildare.
In reality, many properties simply aren't completed to the high standard that you, the purchaser, rightly expect and deserve when buying your new home. Each house is different and each will have its own snags.
Builders will typically "pre-snag" and find the most obvious issues which require attention. However, it is best practice to have your own independent inspection and snag list carried out to get an accurate professional perspective.
It can be difficult for the new home owner to get a builder to return to deal with items that you may only notice once you have taken occupation of the house.
Q: When is the best time to get my 'snag list' completed?
A: Ideally between contract exchange and pre-completion. We believe that the best time to get a snag list completed is before the release of the purchase monies, when the builders main aim will be to obtain the full purchase price. We work solely in the best interest of our clients, providing you with a professional high quality service with a detailed report , including photos of defects found from which the builder / developer can easily identify and rectify any outstanding issues.
For new build home snagging surveys in the Dublin area Holmes Property Inspection recommend snagging is carried out by one of our snagging inspectors a minimum of two weeks before the hand over / move in date, or at any time in the duration of the warranty period of an occupied property. We work solely in the best interest of our clients, providing you with a professional high quality service with a detailed report, from which the builder or developer can easily identify and rectify any issues which may have been overlooked.
Never allow yourself to be unduly pressured by the builder into carrying out a Snag List prior to completion of the works. Builders or Developers often ask you to carry out the list weeks before the property is actually complete.
Also a property should not be inspected if it has not been fully cleaned and ready to inspect. Dust and debris can cover and disguise defects. You should never ask the builder for a recommendation on who to hire for a snag list as it creates a conflict of interest.
Our Unique and Professional Snagging Service is available through our website.
Call us +353861700919 to arrange your property Inspection.